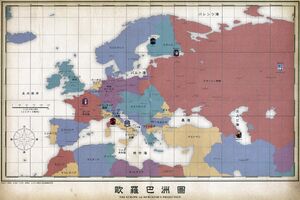 The Commonwealth of Britannia (ブリタニア連邦 ?) is a country in northwestern Europe, which is similar to modern Great Britain. It is the setting for most of the first season of Strike Witches.
Their nation's insignia seems to be a small red disk on a larger blue circle superimposed on a wider white circle outlined with another yellow circle. Britannia was the Front Line of the Neuroi War and the Battle for Gallia.
Prominent cities of note listed on the world Atlas are Turnhouse, Glasgow, Cranwell, Birmingham, London, and Plymouth.
Britannia is a maritime nation that has monopolized trade from the Atlantic Ocean to the Indian Ocean. Thanks to the efforts of the 501st JFW in defeating the Gallian hive by the end of 1944: Britannia is a peaceful land without the threat of Neuroi invasion hanging over it any longer.
Britannian Armed Forces
Britannian Royal Army
Britannian Air Force
Britannian Witches
Other Witches
Gallery