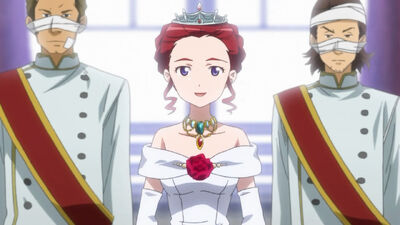 Maria Pier Di Romagna (マリア・ピア・ディ・ロマーニャ?)
Head of state for the Duchy of Romagna. Assumes title after a grand day out with Lucchini. Prominently features in Season 02 Episode 05, "My Romagna". Kisses Francesca on the cheek. Based on the May Queen, Marie-José of Belgium. Her bodyguards, probably trying to take her back to the palace, were attacked by Lucchini who mistook them for the Mafia because of their dark clothing and glasses. Both bodyguards survived the attack with mainly head injuries.
During the Drama CD of the second OVA, Shirley mentions planning to take Lucchini to visit the Duchess again in Venezia (with the intention of letting them hang out as they are mentioned to now get along well) after Fernandia Malvezzi mentions being assigned guard over her whilst staying there. This is likely confirmed as being fulfilled later with this illustration.
Appearances
Anime
Manga
Gallery