Due to some Strike Witches setting or history information being subject to change, this page might be inaccurate, incomplete or outdated.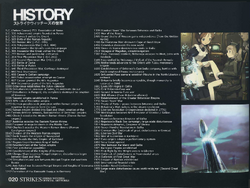 The World Witches universe takes place in an alternate universe. Some of the people and events in this universe remains the same as in real-life, but some were subject to change. Also, completely original elements have also been introduced by the author.
It is believed, but not proved, that the existence of Witches heavily influenced in the course of history in this universe. Witches play an important role in history by assisting mankind in fighting monsters with their magical abilities.
Most of the references used here are from the Strike Witches Fan Book.
Expanded Timeline
The following timeline follows the Before Caesar (BC) calendar.
Translated historical timeline
Listing of events from the anime and other source media
Late May/Early June? - Libau falls/Sakamoto Mio gets injured and sent back to Fuso.
June; Paris falls - establishment of a provisional Gallian government in Vichy
Minna , Barkhorn and Hartmann retreat to Britannia
Perrine and Sanya retreat to Britannia
June; Operation Barbarossa begins - a counteroffensive from the northern districts towards the north of Orussia
Operation Typhoon is implemented - a counteroffensive from the Black Sea area and the Orient towards the center of Orussia
Petersburg liberated
Tsaritsyn liberated
Summer; the organization of Joint Fighter Wings by the Allied Forces begins
Formation of the 31st Joint Fighter Squadron Africa
Winter; interruption of Operation Barbarossa and Operation Typhoon
Gallery
References